Your donation can provide food, warmth, and a safe place to stay. Please give generously today.
Your gift could can give a young person like Jasmine a bed for the night.
Or a decent meal, or clothing to keep out the cold, or some clean linen so they can make a room feel like home.
But you can also fund the reliable, non-judgemental and compassionate support that helps people like Jasmine deal with long-term trauma and build a better life for themselves.
Our promise to you
Without your loyal support, we couldn't do the vital work that we do.
That's why we promise to uphold the highest ethical standards – at
every turn – to reward your trust.

Where your money goes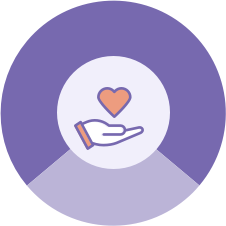 For every $1 you donate,
72c goes directly to our programs.
---
1300 364 507
donation@mcm.org.au
Melbourne City Mission Inc. ABN: 56 161 846 149. All donations $2 and over are tax deductible