MCM provides expert in-home palliative care services 7 days a week in the cities of Hume, Merri-bek, Darebin and Yarra. Our patient centred care is available 24 hours a day, 7 days a week.
Our trained and experienced staff will visit you in your home or residential facility
We offer a range of nursing, medical, allied health and consulting services to help people experiencing a life-limiting illness to have the best possible quality of life.
We will make an introductory visit to you and your carer, to assess and discuss how we can support you. We work in partnership with you to build a plan for your care that is tailored to meet your ongoing needs.
We support you to make choices and help you take control of your care.

Palliative Care provides specialist health care and practical support to people who have an advanced disease or life-limiting illness, their carers and families, ultimately aimed at enhancing quality of life.
At MCM, we provide expert symptom management and pay particular attention to physical, spiritual, social and cultural needs, ensuring that dignity and quality of life are at the forefront of everything we do.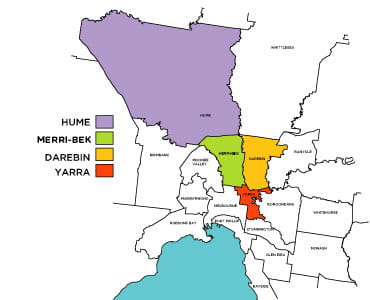 Who can access our services?
We work with and cater for people of all ages, genders, cultural backgrounds, sexual identities and spiritual beliefs.
You can access our services if you live in the cities of Hume, Merri-bek, Darebin or Yarra.
We also support other services, such as residential care facilities, in taking a palliative approach to improve your quality of life.


What does it cost?
Our service is free of charge, but all donations are gratefully accepted.
Access and referral
To discuss your needs: Please get in touch with our Referral Coordinator or call us on 03 9977 0026
Health care professionals: Referrals to our service may be faxed to us on 03 9482 5094
Online referral portal: Anyone can make a palliative care referral using the online referral portal.
Our supports and resources
Nursing and medical

Expert symptom and pain management
Education for you and your carer/s on managing your illness and your ongoing care
Links to hospitals, palliative care inpatient units and community support agencies
Consultancy services to other health professionals

Care coordination

Support as you make decisions and personal adjustments that may accompany serious illness
Have conversations to coordinate your care with planning and connecting to resources
Practical issues such as accessing benefits from Department of Human Services Centrelink
Identifying the needs of your carer and connecting them with support

Allied health

Support with advance care planning
Listening, companionship and social support
Professional support with emotional and spiritual concerns
Time out for your carers
Bereavement and grief support
Volunteers are a very important part of our team, supporting you and your carers with time out and companionship.
Contact us
Address: 230 Normanby Avenue, Thornbury Victoria 3071

Opening hours: Monday to Friday 8:30am to 5:00pm

Phone: 03 9977 0026

Fax: 03 9482 5094

Email: mcmpc@mcm.org.au
Further resources and information