Ruby had terrible Post Natal Depression after having her first baby. She spent several months in hospital when her daughter was tiny, making it even harder for the two of them to connect.
Ruby had always been shy
When she first began attending a Parent-Child Mother Goose session at an MCM centre, she could barely bring herself to speak with the other mums there.
With some non-judgmental encouragement, Ruby and her little girl began to learn songs, rhymes and techniques that helped them both.
Their connection deepened, the child's language and focus skills improved, and Ruby now has good ways to soothe her baby and make her laugh and smile.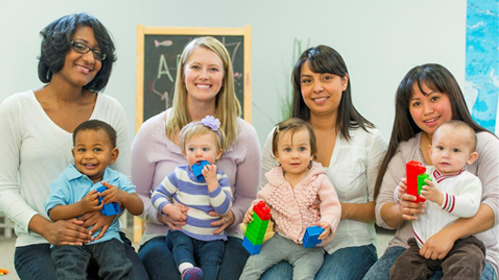 They kept coming back to Mother Goose
It's a program designed to support families with young children, particularly if they've struggled with disadvantage or social isolation. And it worked for Ruby and her growing family.
When another little baby came along, he became part of the Mother Goose family too.
Today, Ruby is a much more confident person than she was three years ago. Best of all she is a loving, engaged mum of two healthy little ones.
These days, she's the one who reaches out to new parents in the group, happily sharing her own story to encourage them.
For more information
MCM provides a range of early years services supporting parents, grandparents, carers and children.
Visit our Early Years Family Support page for further information.