Here at Hester Hornbrook Academy, we're proud to shake things up and offer a different kind of education experience. We know traditional schooling isn't for everyone — so we stray from that format and offer our students flexible education options that puts them in charge of their learning and in charge of their future.
Here are just some of the ways we're choosing to do things differently.
Year-round enrolment
Why give only a few opportunities in the year to get young people involved in education? We're excited about getting more students involved in our classes. So as soon as inspiration rises its head and a young person is ready, so are we.
Many of our students have had significant gaps in their education, sometimes up to 3 to 5 years. We don't want to prolong it any further.
Educators and youth workers in every class
Some students have had to overcome significant challenges in order to continue with their education. We want to support them in this journey as much as possible. As well as our innovative educators who make learning exciting, we also provide youth workers in every room to offer personalised support to each student. All of our staff are trained in trauma-informed practice, restorative practices, CPR and first aid.
We also keep our classes small to ensure personalised one-on-one attention and promote strong relationships between staff and students.
If someone does have an issue, or is going through a hard time, the youth workers and teachers can support them. I was one of the students who had ups and downs, and they helped me through it a lot and they showed me learning could be fun.
Practical Applied Learning
Music Production, STEM, Performing Arts, Technology and more! When you choose to finish secondary school at Hester Hornbrook Academy, there's something for every student interest.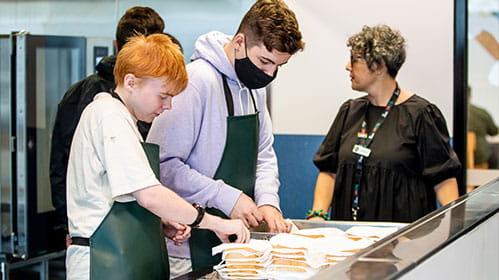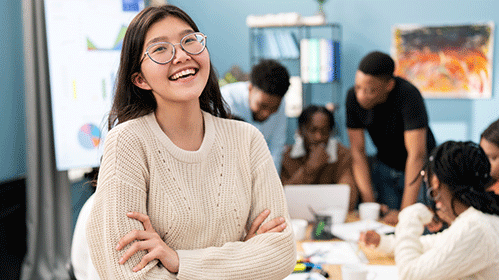 Healing orientated curriculum
Some of our students come to us from complex backgrounds, having unsuccessful school engagement and a range of experiences that can leave them with unresolved trauma and mental health issues. Our task is to assist students to manage these difficulties and to provide a therapeutic environment that will enable them to engage positively in school and flourish.
Our staff are trained in the delivery of a trauma informed curriculum that wraps around the VCE Vocational Major (VCE-VM) & Victorian Pathways Certificate (VPC) curriculum. It is designed to assist students to manage their emotional distress and dysregulation, and provide tools and strategies that help our students build a positive engagement with school and a pathway into a productive future.
Mental health support
At Hester Hornbrook Academy, we provide enhanced wraparound support for young people who experience mental health challenges and for those who have disengaged from traditional schooling. In addition to our model of student centre applied learning, our Living Learning program offers mental health supports and an encouraging and caring environment that supports students to work towards educational and future pathway success over a three-year learning journey.
Young parents' classrooms
Being a parent is one of the most rewarding things you will ever do in your life, but it doesn't always make scheduling and study easy. Our Young Parents' Classrooms make it easier for women to remain engaged in study and work toward future employment. Classes begin during pregnancy and mums are welcome to bring their babies to class once they're ready to return to learning.
We are a community. We help each other, support each other and sometimes even cry together but we are united in our desire to be great mums for our children and strive to make the best life that we can. We are strong.
Access to youth and community services
Just as we have youth workers in every classroom to ensure wellbeing, we connect our students to an array of other services to get them the support they need. Frontyard Youth Services provide support for young people at risk or experiencing homelessness. We can even help students to get their licence with L2P Learner Driver Mentor program.
Outreach learning
Connect Youth is just another classroom at Hester Hornbrook Academy. But then again, it isn't. We know that everyone is in a different place on their learning pathway, and we're ready for that. Connect Youth provides another level of support to young people who have experienced disruption in their education.
We offer outreach tutoring and case management support to help future students transition back into school, if this is what they need. The classroom runs two days each week at our Bourke Street campus and students take part in workshop-style learning, in a highly supported environment.
I was at rock bottom before I came to Connect Youth and they gave me the right support. Now I can say I'm in a much better place and if it wasn't for them I wouldn't know where I would be.
Connect Youth is all about breaking down the barriers to education. We do this by providing extra support for each step of the way, with the goal for young people to enter a VCE-VM or VPC program. The program is available to all students who enrol at The Hester Hornbrook Academy, and referral is on a case-by-case basis.
Melbourne City Mission offers re-engagement programs outside Hester Hornbrook Academy. Learn more on our Youth Reengagement page.
To learn more about our unique approach to education, get in touch with our team on 1800 517 218.