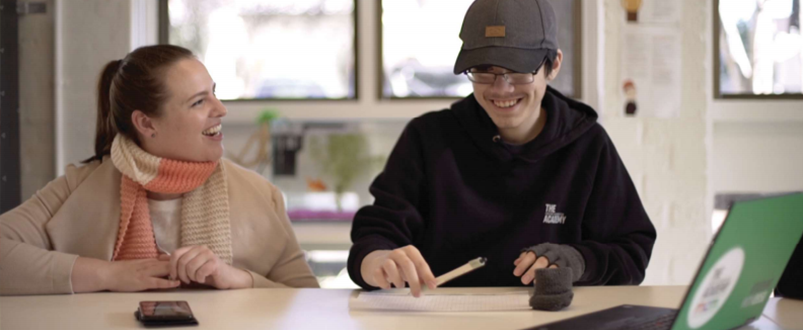 29 November 2019
Evaluating the impact of a Youth Worker in the classroom has on education outcomes for students at Melbourne City Mission's (MCM) Hester Hornbrook Academy (HHA) was the goal of a research project led by Victorian University.

HHA is an independent school provides supportive, flexible education options to connect young people with their schooling. The students who attend HHA are typically disengaged from mainstream schools and are often experiencing social disadvantage and mental health issues.

Lead researcher, Professor Robyn Broadbent, Course Chair Youth Work and Community Development at Victoria University, found the presence of a Youth Worker in the classroom plays an important role in helping students achieve a positive educational outcome.

"Many of the students at the academy have had to face significant challenges in life, and the combined approach of educator and youth worker model at HHA is working in such a way that they feel empowered to stay in school,"

"Youth Workers are highly skilled and it's a unique practice that offers support for young people experiencing complex behaviours, particularly in an environment where they can feel exposed and vulnerable.

"Youth Workers have the necessary skills to deescalate and breakdown barriers, so the affected student feels supported while at the same time allowing the educator to continue teaching the rest of the students," Robyn said.

Out-going Principal of HHA, Tim Knowles said MCM acknowledges the important contribution that high-quality Youth Workers make to young people achieving their full potential beyond the academy.

"The HHA model provides a multi-disciplinary solution to supporting young people who face barriers to accessing and completing their education. Each classroom team at HHA is comprised of an educator and youth worker. The team works together to meet our students where they are on their learning journey, and support them to experience success and achieve the goals that they set for themselves".

"Our students are known, valued and supported to work towards becoming the best possible version of themselves while at HHA and beyond".
Read the full research report, The Hester Hornbrook Academy Classroom Youth Worker Research Project.