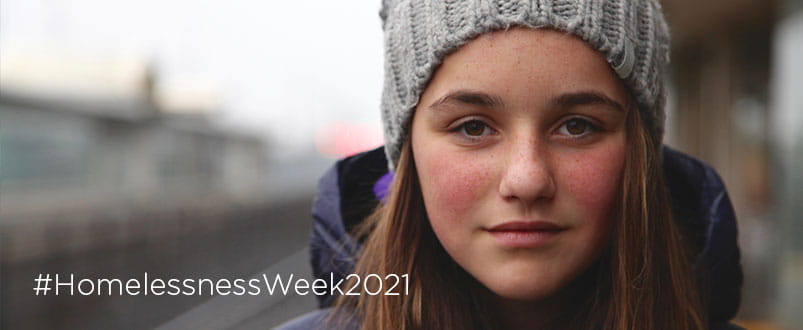 1 August 2021
As we observe Homelessness Week 2021, Victoria has an opportunity to transform youth homelessness in our state and change it for good.
Each year, 14,000 young, unaccompanied Victorians seek urgent support from specialist homelessness services such as MCM. Each night, over 6,000 have no safe place to sleep. A quarter of Victoria's homeless are between the ages of 12-24 – which means they are an overrepresented group among people experiencing homelessness in our state.
This was the case even before the pandemic hit, bringing with it greater pressures on families and mental health – their breakdown being the two major drivers of youth homelessness.
We have seen some wonderful actions taken in the past year, such as housing rough sleepers in hotels and a once in a generation commitment of $5.3 billion Big Housing build in the 2020 State Budget to build social and affordable housing.
While these very welcome investments toward addressing Victoria's housing challenges will unblock the homelessness system and enable more adults to exit homelessness, they will sadly do little to change homelessness for young people aged 12-24. This is especially true for young people who have no safe home to return to due to abuse, neglect, family violence or family breakdown.
Many existing homelessness services are geared towards adults and adult problems. Young people are continuing to fall through a gap in our system.
There are two main reasons for this: Firstly, young people receive lower minimum wages and Centrelink payments than adults, so they're usually priced out – including from social housing, which still requires rent to be paid. Secondly, social housing is not a good fit for young people, who need a lot more support than housing alone provides, and who often don't yet have the skills and maturity to maintain a tenancy.
Many young people who come to MCM with no home and nowhere else to turn have experienced frightening trauma in their childhoods, such as family breakdown or abuse. They may have a crippling mental illness, untreated physical health issues, and, yes, unhealthy relationships with the substances they have turned to in order to cope.
Without safe, stable housing and support, we see these young people caught in an invisible cycle: couch surfing with family, friends, and exploitative strangers; returning to unsafe family environments; living in other cramped, unsafe conditions, and resorting to rough sleeping.
Most homeless services are short term and crisis focused – and designed for adults. Young people bounce in and out of these services, and they do little to break the cycle.
We owe it to young people, who have a whole future ahead of them - and whose experiences of homelessness are rarely their own doing - to have the right support at this critical stage of their lives.
Youth homelessness is complex, but it's not unsolvable. There are three responses which combined, could fundamentally interrupt the status quo.
First: housing geared to the needs of young people. We strongly encourage governments, the private sector and philanthropists to support housing specifically designed for young people and the challenges that are unique to them. These options must provide the longer-term security and stability a young person needs while they transition to independent living. A few nights in a hostel or a month at a youth refuge just won't cut it.
Second: Integrated support. Housing alone isn't enough. MCM advocates for integrated responses that also support a young person to gain life skills, confidence to access education and job training, and connection to the community, empowering them to achieve independence.
Third: Healing from trauma. Youth homelessness responses must proactively address trauma by supporting young people to process the sometimes truly horrific events of their young lives and move forward with positive strategies for managing their own mental health and wellbeing.
As Victoria makes a once-in-a-generation investment in housing solutions, now is the time to respond to the needs of young people being held back by the chaos and compounding trauma of homelessness and prevent the ultimate tragedy of them being left behind as homeless adults of the future.
Vicki Sutton, CEO, MCM.