Frontyard recently held an official preview event to celebrate the combined efforts of everyone involved in its redevelopment. Guests from the property and building sector, donors and philanthropic partners, stakeholders, supporters and staff were present to receive an exclusive sneak peek of the brand new Frontyard.
Speeches were made by Wayne Merritt, General Manager Homelessness and Justice and Melbourne City Mission Chief Executive, Vicki Sutton.
Vicki shared stories about the early days of planning, after Melbourne City Mission (MCM) won a grant of $3 million from the Victorian Government. Vicki recounted the team faced many challenges, as expected with a redevelopment of this scale, costs escalated dramatically.
Vicki thanked several significant contributors during the event, namely MCM Board of Directors, Mason Henderson, Head of Property and Procurement, the Peter and Lindy White Foundation who were the first philanthropists to donate $1.5 million, Robert Pradolin and the wider team at the Property Industry Foundation (PIF) and finally Wayne Merritt, for his inspiring dedication.
Wayne's speech highlighted the reasons behind the Frontyard redevelopment
After collecting feedback from young people and staff members, the problem was clear: there's a specific group of young people who have significant and complex experiences of neglect and abuse.
Due to these complex issues, these people are not able to maintain any type of accommodation or receive the support they need from other services.
The team knew what the solution was: a 24/7 crisis accommodation centre, offering long term individual case management and support from a multi-disciplinary team based around a therapeutic response.
Four years later, the team has succeeded in their pioneering vision and is the first to deliver a model which integrates crisis accommodation and connected support services to address complex needs of young people experiencing or at risk of becoming homeless.
The official preview event was not only a great opportunity to have a sneak peek inside the new building, network and enjoy morning tea, it was an opportunity to say thank you to all the supporters who made the Frontyard's vision to support young people out of disadvantage a reality.
Introducing Sandhya - Team Leader at Frontyard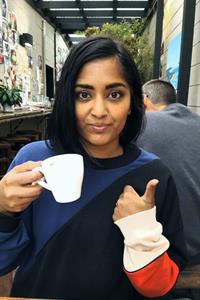 This month we spoke with Sandhya Jadunundun who has been part of the Frontyard family for almost seven years.
Her Q&A gives a great overview of her role, plus tells us what the new service means to the young people she supports every day.
What inspired you to work at Frontyard?
I had taken some time off after being hospitalised and lasted less than a week not working or being busy before I found Frontyard. My first role was as a casual staff member for the housing team, the only thing I knew at the time was I wanted to work with young people again and that I had a passion for human rights and social justice. Shortly after starting at Frontyard, I was offered a full-time position and have never looked back.
Frontyard is a dynamic place to work, with no day ever being the same. Each young person is unique, engaging, has incredible potential, energy and resilience. Their powerful stories and experiences drive my passion to create social change, challenges me to be creative and makes me determined to support them to navigate their world and circumstances.
What are your daily responsibilities?
As a Team Leader, I oversee the daily functioning of the space. I work closely with management, staff and young people towards creating a safe and welcoming place and ensure programs are easily accessible to young people.
I oversee the Frontyard intake team, youth development and participation, school's engagement program, youth employment program, living skills and I'm involved in some advocacy work for Melbourne City Mission.
Can you tell us what excites you about the new Frontyard?
Absolutely, I recently moved from our temporary service to the new Frontyard on King Street in the CBD, which is hugely exciting.
Our young people strongly identify with a sense of community, a sense of belonging and a safe space to spend time to build on their strengths. Running the new programs will allow my team to tap into their skills and creativity to assist young people with their life skills, communication, confidence, employment opportunities and provide therapeutic programs during their varied journeys. The cooking program is also something really exciting and an activity young people have missed, so it will be great cook up a storm with them again.
Why is Frontyard different?
The redevelopment offers a plethora of support for young people. It's a holistic service that responds to the whole person, not just their situation or crisis.
Frontyard challenges the system which supports young people in line with a funding criteria as opposed to responding to the needs of Victoria's most vulnerable young people. With just under 10,000 young people experiencing homelessness and only 109 beds available in supported accommodation in the metropolitan area, this new 18 bed crisis accommodation facility will provide an innovative and flexible model of care with staff who are available around the clock.
The pioneering model has been designed to support young people with significant trauma, who have experienced ongoing challenges connecting and navigating homelessness support services. This model hopes to be an effective intervention to break this cycle and reduce the risk of young people facing adult homelessness.
Finally, what would you say is a 'perk' of your job?
There are two main perks that continually motivate me. I have been so fortunate to be surrounded by some of the most passionate, inspiring, intelligent, hardworking, considerate and authentic youth workers around. I'm always inspired and have learnt so much from my team and peers. It is with such solid support and integrity, that I am still here seven years later.
I'm also privileged to have developed and now oversee the youth leadership and youth participation programs. I get to witness and support young people to grow in to leaders, share their experiences with the community, corporates and other services and mentor them to reach their full potential.
Thank you to our supporters and partners
The Lord Mayor's Charitable Foundation is one of the many supporters of Frontyard and the redevelopment wouldn't have been possible without its generous $250,000 grant contribution.
The Lord Mayor's Charitable Foundation is Australia's largest independent community foundation distributing over $10 million in 2017/18 to not-for-profit and charitable organisations with a focus on greater Melbourne.
Its program areas include Homelessness and Affordable Housing, Education and Employment, Environment and Sustainability, and Healthy and Resilient Communities and the trust aims to increase life opportunities and promote social inclusion.
The Foundation has a strong commitment to reducing the rate of homelessness and breaking the cycle of homelessness in Melbourne including young people who have already experienced homelessness. In 2018, the Foundation provided $1.76 million in funding to organisation who are working to reduce homelessness and increase the supply of affordable housing.
In the last ten years, The Lord Mayor's Charitable Foundation has donated over $850,000 to Melbourne City Mission as it recognises the increasing need to support specialist homelessness services.
Thank you to the Foundation for you their ongoing support and for their role as a prominent thought-leader in social-change philanthropy.