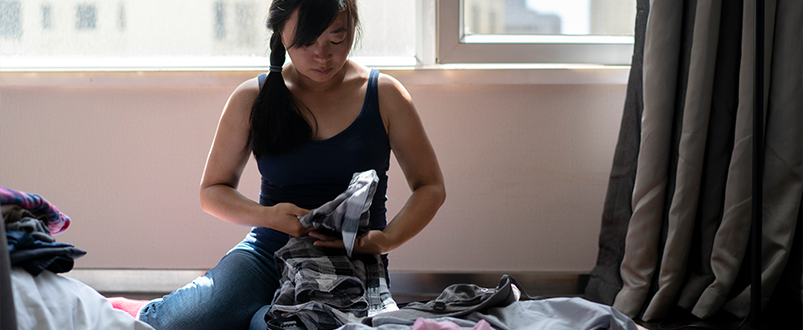 18 May 2020
COVID-19 has had an immeasurable impact on our daily lives, and isolation is incredibly difficult for young people and families experiencing homelessness.
It's hard to do the right things to stay safe when you have unstable housing, and couch surfing really isn't an option at the moment. People experiencing homelessness staying in emergency or crisis accommodation are having real difficulties accessing essential items and maintaining their mental and physical health. Vulnerable members of our community who are experiencing homelessness during COVID-19 do not have the financial means to buy supplies, often living day to day on miniscule budgets.
With rising unemployment, lack of job security, and the need to stay home to stop the spread, Melbourne City Mission (MCM) are expecting an influx of new clients seeking support in these difficult and unprecedented times.
Safe accommodation a challenge
MCM has partnered with QUEST Apartments to assist with housing at-risk families and young people. While this is good news, greater access to secure housing is desperately needed.

Many larger hotels in Melbourne's CBD are sitting idle right now, and could be utilised instead to give families and young people a safe and secure place to shelter from the virus. MCM is working at stretched capacity at the moment to secure more places for our city's most vulnerable.


Adaptation out of necessity
MCM are continuously adapting services during the constantly evolving COVID-19 pandemic.

Community safety is top priority, and as such, MCM has implemented several measures to help keep staff and clients safe:
Reinforcing hand hygiene
Moving case management to phone, email and online to keep clients engaged in programs
Adopted government guidelines on social distancing measures including contactless delivery of essential items such as food
Visitor restrictions at some sites
Encouraging and supporting staff who can to work from home


Ways to help
There are many Melbourne organisations and volunteers being innovative in finding ways to help our most vulnerable citizens during this period of social distancing. MCM is accepting online donations that help us secure accommodation and purchase essential food and toiletry items for our clients, while keeping everyone safe.
You can support MCM's coronavirus efforts here.