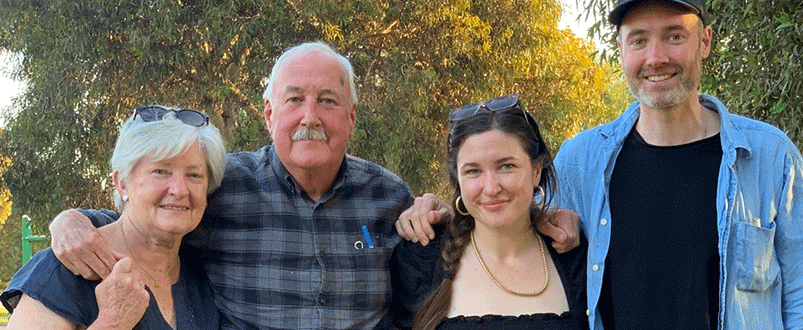 26 May 2022
*Photo supplied by the family and used with permission
It's National Palliative Care Week! Running from 22-28 May, National Palliative Care Week is this year celebrating the theme of It's your right. This year's theme seeks to raise awareness of the rights of all Australians to access high-quality palliative care when and where they need it.
Often the general understanding of palliative care is that it is synonymous with end-of-life care. But palliative care can begin from the moment that a person is diagnosed with a life-limiting illness. We all have the right to live as well as possible, for as long as possible, and this is the gift that palliative care can provide.
The MCM Palliative Care team recently received some very moving feedback from a family that illustrates how important it is for people experiencing life-limiting illnesses to access palliative care provided by skilled palliative care experts and how it allows for the period of end of life to be an enormously rewarding experience for all involved.
Leonie, Patrick and Rosie sent the team a letter, wanting to express their thanks for the care that their husband and father, John, received over the last months of his life.
John was able to die at home, which was his sincere wish, because of the support and skill of the Melbourne City Mission [team]. This would not have happened without you all and the expertise, understanding and deep personal care for John and for us which you brought to each visit and phone call.
You gave us confidence that we were managing the situation well and that John was in good hands. At all times he was treated with dignity and respect and we always appreciated that. He was deeply grateful to you all and understood well that without your care, he would have had to be in hospital.
Unquestionably, the support of MCM Palliative Care prolonged his life and gave us all a final Christmas together. We will never forget what you have given us as a family.
We are immensely proud of our Palliative Care team here at MCM, who have continued to ensure that the service remains an industry leader for over forty years.