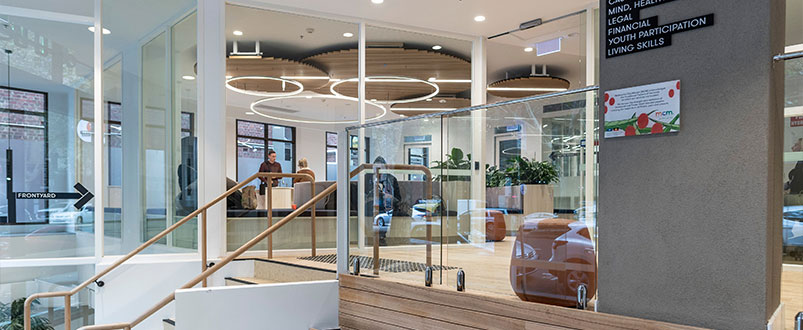 17 September 2020
Melbourne City Mission's Frontyard Youth Services building is a finalist for Development of the Year - Hotels & Accommodation in The Urban Developer Awards 2020.
Architects Fender Katsalidis, who designed the building, were among 11 top-tier industry leaders who donated over $1.5 million in services to the redevelopment of Frontyard through the Property Industry Foundation.
The design team at Fender Katsalidis contributed over $440,000 of pro-bono work to the design of Frontyard with the aim of creating a building where young people experiencing homelessness can feel welcome, safe, calm and comfortable.
The architecture firm is perhaps best known for designing the Eureka Tower, one of Melbourne's most recognisable buildings and tallest towers in the Southern Hemisphere.
The Urban Developer Awards for Industry Excellence recognise the best urban developments across Australia and New Zealand and provides a platform to celebrate leadership and success in the industry.
A record number of submissions have been shortlisted to around 100 finalists across 20 categories. This year's awards will be announced through a month-long release of live content: The Urban Developer Winner's Month between 23 November and 18 December.