17 July 2018
Construction of a world-first model of intensive support and crisis accommodation for young people sleeping rough commenced today in Melbourne
Victorian Minister for Housing, Martin Foley, was on-site at Melbourne City Mission's Frontyard Youth Services at 19 King Street, to mark the start of the $8 million construction project.
It was made possible by an innovative partnership between Melbourne City Mission and the Victorian Government, philanthropists including The Peter and Lyndy White Foundation, and the property industry through the Property Industry Foundation.
The project will transform Frontyard – Victoria's largest early intervention and crisis service for young people who are experiencing, or are at risk of, homelessness – into a 24/7 service with new and expanded supports, including two floors of crisis accommodation for young people who are currently rough sleeping in the city and onsite mental health, drug and alcohol and disability expertise.
As part of the new world-first model, Frontyard will pioneer digital engagement strategies to more effectively connect young people into support
The Frontyard team will also actively hit the streets to find young people sleeping rough and connect them to services.
These new and expanded services will build on more than a dozen existing support services at Frontyard, which include primary health, allied health, family violence support, counselling and family mediation, and legal support.
When construction is completed, the new Frontyard will provide a breadth, depth and intensity of support unlike anything else found in the youth homelessness system.
The new model of support has been designed to respond to the multiple and complex needs of young people with significant trauma, who experience challenges connecting into support services.
Many of the young people who will access the new services will have been through the child protection system and have had engagement with youth justice.
They are likely to experience addiction, cognitive impairment and other disabilities in addition to youth homelessness. Without effective intervention, they are at risk of remaining in crisis long-term, including adult homelessness.
Existing Frontyard services will remain open throughout the redevelopment, at a temporary site at 244 Flinders Street in Melbourne.
The new Frontyard will open up at 19 King Street in early 2019. Channel 9 came along to film the launch Watch the video on their Facebook page.
Young people with a lived experience of homelessness and Vicki Sutton, Melbourne City Mission's CEO, are available for interview.
Channel 9 came along to film the launch
Watch the video on their Facebook page.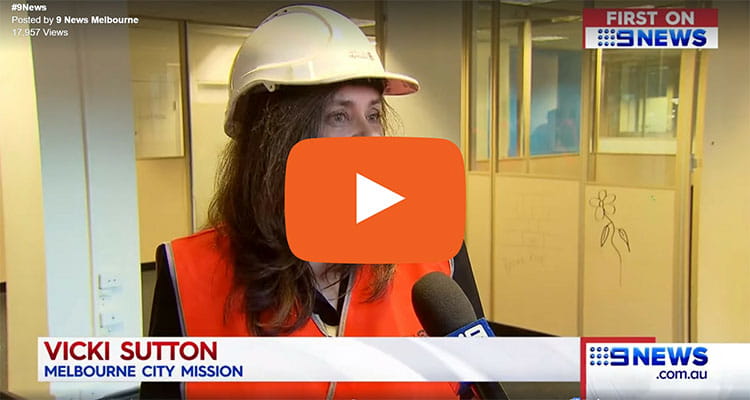 Quotes – Martin Foley, Minister for Housing, Disability and Ageing
Victoria is leading Australia – and the world – by investing in the Frontyard model which provides a comprehensive 24/7 response to youth homelessness.
Our $3.5 million investment in Frontyard will help get Victoria's young people off the streets, keep them safe and connect them with the right support when and where they need it.
Quotes – Vicki Sutton, CEO Melbourne City Mission
For 29 years, Melbourne City Mission and Frontyard have been there for young people when they have had nowhere else to turn. The new Frontyard is designed to disrupt the cycle of homelessness for Victoria's most vulnerable and hard to reach young people.
The Frontyard model of connected support and accommodation is a world-first in terms of providing a comprehensive response to what we know young people need.
Melbourne City Mission values the strong partnership with the Victorian Government, the Property Industry Foundation and the many donors and philanthropists who have joined with us behind this model that will help Victoria reduce youth homelessness.
Quotes – Peter Inge, Chairman Property Industry Foundation Victoria
Our mission at the Property Industry Foundation (PIF) is to work with charities who provide programs that assist at-risk and homeless young people. It is PIF's plan to nationally create 125 bedrooms over the next 4 years.
We're proud to partner with Melbourne City Mission on the new Frontyard project that will provide a world-first 24/7 program with short term accommodation for the most severely marginalised and disadvantaged youth.
Melbourne City Mission have a long and proven track record in delivering programs and positive outcomes and we are thrilled to be part of the team to deliver the facility for the project.
A number of consultants in our industry such as Ashurst, Case Meallin, Urbis, Slattery, Fender Katsalidis, NDY, Wood & Grieve Engineers, Hendry Group, Equitable Access Solutions, Irwinconsult, and Built have already pledged their support with a plan to provide pro-bono services for the construction project.
Our building partner, Built, will source and provide discounted and donated goods and materials for this project.
Quotes – Brett Mason, Managing Director of Built
As already a strong supporter of the Property Industry Foundation, we are proud to be a part of the Frontyard project which brings together industry, not for profit and government to help young Australians who are experiencing hardship.