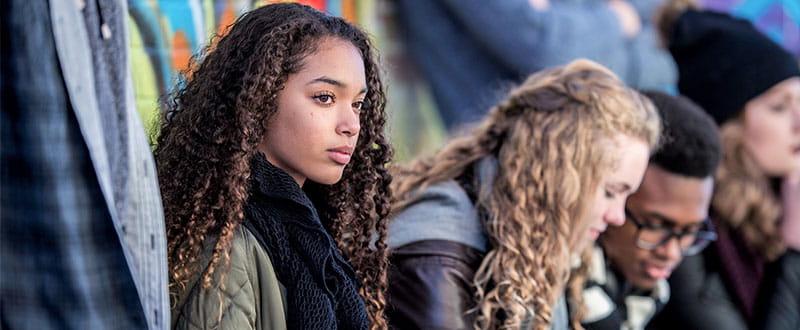 Six years ago, among many important findings, the Victorian Royal Commission into Family Violence identified young people as the 'silent victims' of family violence. Since then, Victoria has invested significantly in family violence system reform, including $3 billion and implementation of nearly all of 227 recommendations - and that investment is contributing to necessary change on the ground.
But, sadly, young people experiencing family violence, in particular those aged 15-19, are still being left behind. They remain the "silent victims" of family violence, as the Royal Commission described them all those years ago.
For years we at MCM have been acutely aware of this failure. So many unaccompanied young people, desperate to escape family violence, turn up to our homelessness services - they literally have nowhere else to go -- falling through the gaps between family violence and child protection systems.
It's a complex issue. Many young people don't even realise that what they are experiencing is family violence, and, therefore, they don't reach out for support. But even more concerningly, our current system doesn't recognise them as victim survivors in their own right when they do.
Young people experiencing family violence have an increased risk of eating disorders, teenage pregnancy, early school leaving, suicide ideation, mental illness and use of violence. They also experience disrupted school and consequent harm to their chances of getting and keeping a job, difficulty making friends due to the stress or shame of trying to keep the violence secret, and the disruption of moving houses and schools to escape. And when young people miss out on support, they can experience repeating patterns of violence throughout their lifetimes and compounding disadvantage.
Today MCM and the young people affected by family violence are urging our systems to tune in to young people, and take action, with the launch a new report, "Amplify: Turning up the Volume on Young People and Family Violence". The report contains twenty recommendations for how the family violence sector, government and other social service providers must come together to deliver the long overdue support and services these young people so desperately need.
The gap for young people experiencing family violence is nothing new. In addition to being highlighted by the Victorian Royal Commission into Family Violence in 2016, children and young people are identified as a priority in the current action plan. However, a lack of clarity on what specific responses young people need has stymied efforts for change. MCM's "Amplify" report provides some of those answers.
The report sheds light on some of the challenges: Policy settings that treat 'children and young people' as one homogeneous group, meaning family violence services are not adapted to the developmental needs of young people, especially those over the age of 15; and young people are often seen as extensions of their parents or carers for the purposes of support, their opportunities to exercise agency severely limited by confusion around the legal rights of young people under 18, and issues of parental consent.
Today's report is a first step towards bringing together the range of sectors and services that must begin to work with young people to design specific responses and referral pathways for young people; to adapt current policy, practice and risk frameworks to better provide for young people as victims in their own right, and to create suitable short-term accommodation and long term housing responses for young victim survivors.
We are hopeful that the Victorian government will urgently implement these solutions. We can't afford to see another generation of young people pay the price.
Today's MCM report has turned up the volume on the needs of young people experiencing family violence. It's time to tune in – they deserve to be heard and they deserve to be safe.
Vicki Sutton, CEO, MCM