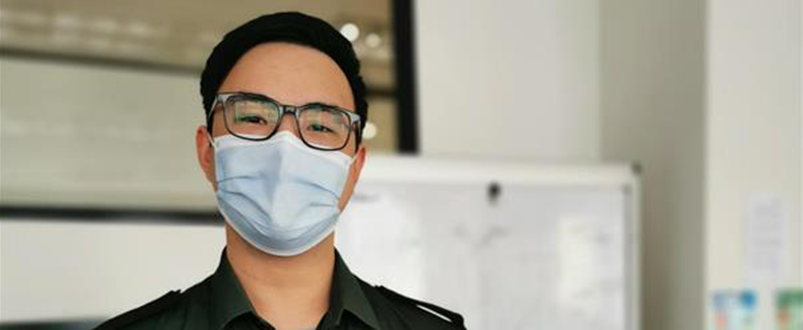 9 December 2020
Joseph has been a student of The Hester Hornbrook Academy since 2018 and in that time, he has successfully completed his Intermediate VCAL and completed a Certificate III in Health Services Assistance.
In 2019 Joseph became a Volunteer Member for St John Ambulance Victoria. Joseph is active within the Brimbank Division and often attends local and state events in a volunteer capacity.
During the peak period of COVID-19 in Melbourne this year, Joseph dedicated his time to assist in rapid response to the 'hot spot' testing blitz the Victorian Department of Health and Human Services enacted. Joseph's responsibilities during this emergency response was to cold call and door knock members of the public in the hot spot areas to collect COVID-19 self-test kits and deliver them to pathology centres. Joseph dedicated seven shifts to this activation which totalled almost 100 hours of service.
For this act of good, Joseph has been awarded a prestige award of a Bronze Commendation in recognition of his commitment made, supporting St John Ambulance Victoria in its response to the COVID-19 pandemic. This award is only given to those who make a significant contribution to the St John Ambulance Australia. Joseph formally received his award on Saturday 5 December via a virtual presentation. The Governor of Victoria, The Honourable Linda Dessau AC, the Lord Prior, Professor Mark Compton, the Chancellor Cameron Oxley and the Chair, Virginia Bourke presented the awards on this special occasion.
Hear from Joseph first-hand below on why he started volunteering:
I joined St John after seeing them at a local festival when I was young and always admired what they contributed to the community. I decided to join the organisation because I wanted exposure to the health field. This is a passion of mine ever since I was small. I have always considered paramedicine; however, I have chosen nursing after being inspired by the people around me. I would encourage other young people who have an interest in health to become a volunteer as the opportunities provided in experience and exposure you can't get from anywhere else. It has enabled me to feel more confident, gain skills and practice that I can take with me in my future studies and career.
Joseph is now becoming an Alumni of The Hester Hornbrook Academy and has applied to start a Diploma of Nursing in 2021.
The staff of The Hester Hornbrook Academy are extremely proud of Joseph's achievements within his VCAL and volunteer work. Joseph has gained a lot of confidence from being at The Hester Hornbrook Academy and we are keen to follow his progress into his new career.
If you or someone you know is interested in enroling in one of our Hester Hornbrook Academy campus locations, send us an email today or call 1800 517 218.