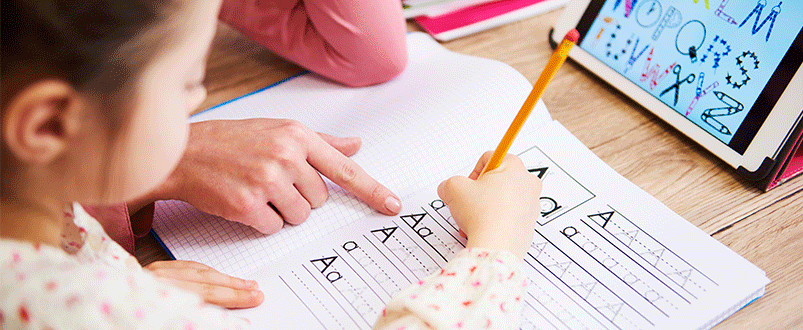 25 February 2022
Our Early Childhood Intervention Team are here to support your child's transition to school
Can your child write their name? Do they struggle to form letters?

Handwriting is an essential life skill. If your child started primary school recently and is struggling to form letters or write their name, they might be finding the transition to primary school a challenge.
Our Early Childhood Intervention Team are here to support your child's transition through our School Readiness/Transition program. If you think your child could do with a helping hand to support them in their transition to school, talk to us today.
How do we support the transition to school?
Starting primary school is a big change for children. Through our Key Worker model, we'll support your child in a number of ways.
Fine motors skills: building hand strength, manipulation of objects, cutting and pasting activities, and sequencing activities to teach children problem solving skills.
Communication: listening and following instructions, asking and answering questions, having a conversation with a friend, asking for help from a teacher
Funding applications: we work with families to identify whether their children may require extra support at school. We complete language assessments and fine motor assessments to assist with applying for additional funding.
Student Support Group: a key worker can attend a Student Support Group meeting, with your school, to share ideas and strategies on how best to support the child at school.
Every child develops at a different pace
Some children learn things earlier, others need more time. If you are concerned about your child's development, talk to us today.
Send us an enquiry or call us on 1800 343 287.
More information about our School Readiness/Transition program.