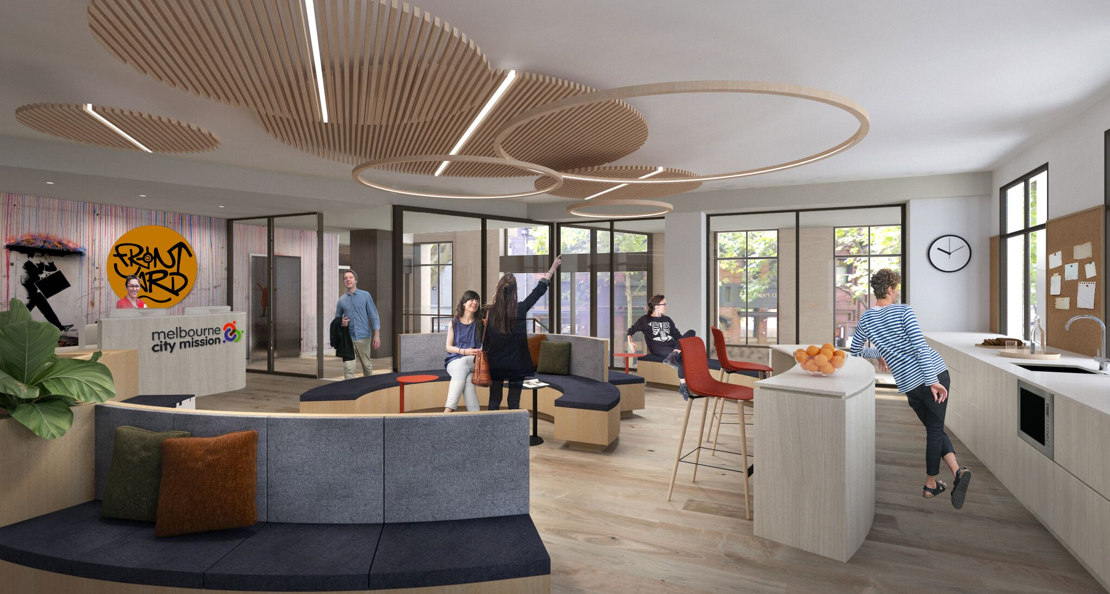 An update on our first project
Frontyard Youth Services, our flagship crisis centre, has been located at 19 King Street, Melbourne CBD since 1989. We've temporarily relocated to a site on Flinders Street in order to completely redevelop the King Street building and bring our world-first innovative service model to life.
The $8 million redevelopment will provide:
2 floors of integrated service provision
2 floors of crisis accommodation (9 beds per floor) for young people experiencing homelessness.
Construction kicked off on 17 July 2018, with Victorian Minister for Housing, Martin Foley on-site at 19 King Street, to mark the start of our first project. Read our media release about the launch here.
Construction work commenced on 17 July 2018
Victorian Minister for Housing, Martin Foley, was on-site at Melbourne City Mission's Frontyard Youth Services at 19 King Street, to mark the start of the $8 million construction project. Read our media release about the launch here.
About the disruptive model of care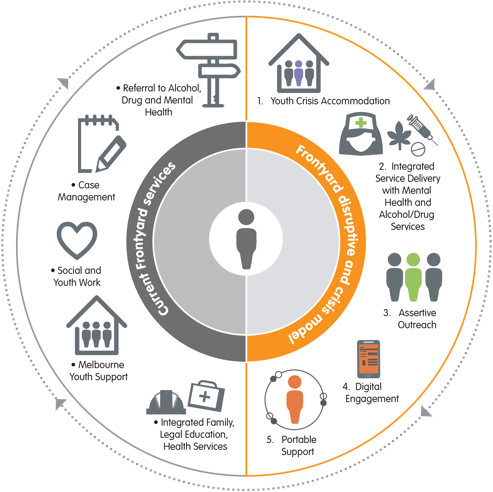 To our existing Frontyard Youth Services we are adding five new elements;
Frontyard is one example of how we're disrupting the cycle of homelessness and helping young people their best life on their own terms. When we reopen, we're adding five new elements to our existing services: A new 'pathway breaking' model of youth crisis accommodation, comprising 18 'step-up and step-down' beds that are fully integrated with Frontyard multidisciplinary supports.
An integrated service model providing case management, coordination of outreach workers, and intensive support from disciplines not typically located in specialist homelessness services.
Assertive Outreach: a mobile workforce will go to the streets of Melbourne where young people are found (e.g. rooming houses) to identify, engage and connect them with clinical and specialist supports. Outreach is provided by a qualified specialist team to address immediate needs.
Digital engagement: launch an innovative digital engagement tool which will provide digitally accessible information for the young person and staff. This will enhance communication between the young person and their care team and improve the level of engagement and long-term connection with services.
Portable support: enabling ongoing follow-up and coordination. This 'long tail' follow-up and coordination of supports will assist the young person to sustain their pathway out of homelessness. Ongoing support will be provided as long as needed.