In this strange new world, we're all finding ourselves working and adapting our lives in different ways. For our MCM program coordinators, this involves rethinking how they interact with the people they work with so that our important services can still be accessed by our clients.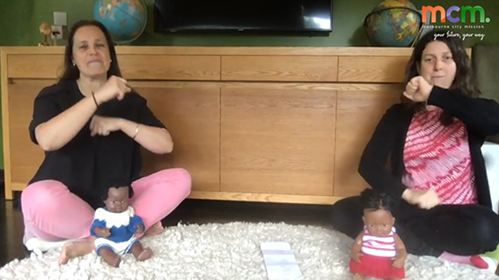 Back in March, two of our Family Support Workers, Julie and Kirsty, were trying to think of ways to provide resources to families who weren't able to physically attend their Parent-Child Mother Goose program, which is a parenting program for families with young children across a range of MCM homelessness programs.
Julie and Kirsty didn't want these families to have to miss out on this vital parenting group — so they decided to become YouTube stars! They got together to film themselves singing, performing sign language and interacting with dolls in order to demonstrate to parents how they can engage their children in important developmental and playtime activities.
Initially filmed as a trial, the video has spread throughout MCM and has been very well received by parents throughout the program. Kirsty and Julie plan on continuing to produce their videos, albeit from separate locations for the time being, and they will be available on the MCM YouTube channel for the use of all MCM clients. Thank you so much ladies — we love your work!